The Health Benefits of Pumpkin (and a Pumpkin Cannelloni Recipe)
More Americans buy pumpkins in October than any other time of the year. They carve jack-o-lanterns, place a candle inside, and light the way for trick or treaters. There are many health and nutritional benefits of pumpkin. Read-on to find out their benefits and ways to cook them.
Power-up Your Immune System
Did you know just one cup of cooked pumpkin has approximately 11 milligrams of vitamin C? Vitamin C is a great way to boost your immune system naturally. For women, aim for 60 milligrams per day and men should shoot for 75 milligrams per day to strengthen immune systems and fight off colds and flu. The best way to fight the flu is through prevention, so consume pumpkin and head to an urgent care location near you and get the flu shot this year.
Great for Dieters
The Huffington Post reported that according to WebMD pumpkins are an "often-overlooked source of fiber." Fiber aids in the weight loss battle and just one cup of cooked pumpkin contains only 49 calories and fiber helps you to feel "fuller" longer. Increase your fiber intake with pumpkin and if you need help finding the best diet, head to retail clinics with family care physicians that can help determine a weight loss plan that's best for you and your goals.
Keep Eyesight Sharp and Clear
You probably know vitamin A is great for eyesight. Pumpkins contain about 200 percent of the daily recommended intake of vitamin A so bring in those pumpkins from the porch and start cooking. Pumpkins also contain carotenoids like beta-carotene and once ingested into our bodies, converts to a form of vitamin A. Keep your eyesight healthy by consuming more pumpkin.
Easy Pumpkin Cannelloni Recipe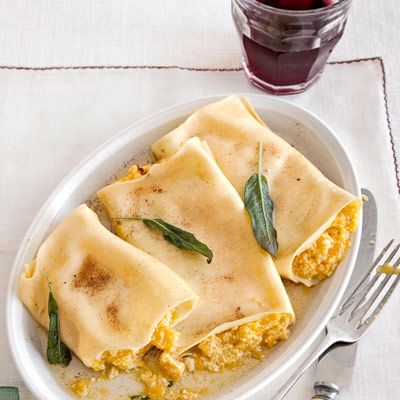 Country Living offers an easy pumpkin cannelloni with sage brown butter sauce recipe and it's designed for fresh pumpkin (although you can used canned).
Ingredients are:
1-1/2 Pounds of pumpkin (peeled, seeded and chopped)
1-1/2 Tablespoon of olive oil plus a little extra for drizzling
3 Large chopped garlic cloves
½ Cup ricotta cheese
½ Cup grated parmesan cheese
1-12 Teaspoons chopped sage plus 4 big whole leaves
¼ Teaspoon salt
½ Teaspoon ground pepper
1 Package oven-ready lasagna sheets (8 ounce size)
6 Tablespoons unsalted butter
To prepare:
Preheat oven to 350 degrees Fahrenheit.
Put pumpkin and ¾ cup of water in a big skillet over medium heat. Cover the skillet and steam about 20 minutes until tender.
Remove pumpkin and mash until smooth.
In a small skillet, heat 1-1/2 teaspoons olive oil, throw in the garlic and sauté. Next, place garlic in a mortar and pestle and crush to a paste. Stir together cheeses, chopped sage, salt, pepper, and your garlic paste and mix into the mashed pumpkin and set aside.
Bring a large pot of water to a boil and cook lasagna sheets as directed—approximately two minutes. Transfer to plate and drizzle with olive oil. Save ¼ cup of pasta water.
Brush a medium glass baking dish with olive oil. Take each sheet of lasagna and add four tablespoons of the pumpkin mixture and roll into cannelloni-sized tubes.
Place pumpkin cannelloni in baking dish and pour in reserved pasta water on top.
Cover with foil tightly and bake for 20 to 25 minutes until pasta is tender.
Use a small skillet and cook the butter and sage leaves over medium to high heat until golden brown; drizzle over cooked pumpkin cannelloni and serve.
Each serving (one pumpkin cannelloni) is only 349 calories and if you skip the butter, the calorie and fat count is even lower.
Now that you know some of the health benefits of pumpkin, buy extra fresh pumpkins this year and improve your chances of losing weight, boost your immune system, and keep your eyesight sharp. Don't' forget to try the pumpkin cannelloni recipe.