As the holiday season approaches, you may be wondering how you're going to enjoy certain holiday traditions this year given how COVID-19 has changed everyday life as we know it. For instance, many brick-and-mortar retail stores may not host Black Friday events this year given the importance of practicing social distancing and minimizing large crowds.

Sadly, vulnerable populations including your older relatives may not be able to join you for the holidays this year for the sake of reducing potential exposure to the virus.
Living in a world with COVID-19 doesn't necessarily mean you won't be able to enjoy the holidays this year—it only means you must be more careful than before so you can protect yourself, your loved ones, and your fellow community members from illness.
Here are 16 COVID takes on holiday traditions that can keep you and your family safe and give you greater peace of mind regarding your health and overall well-being.
Thanksgiving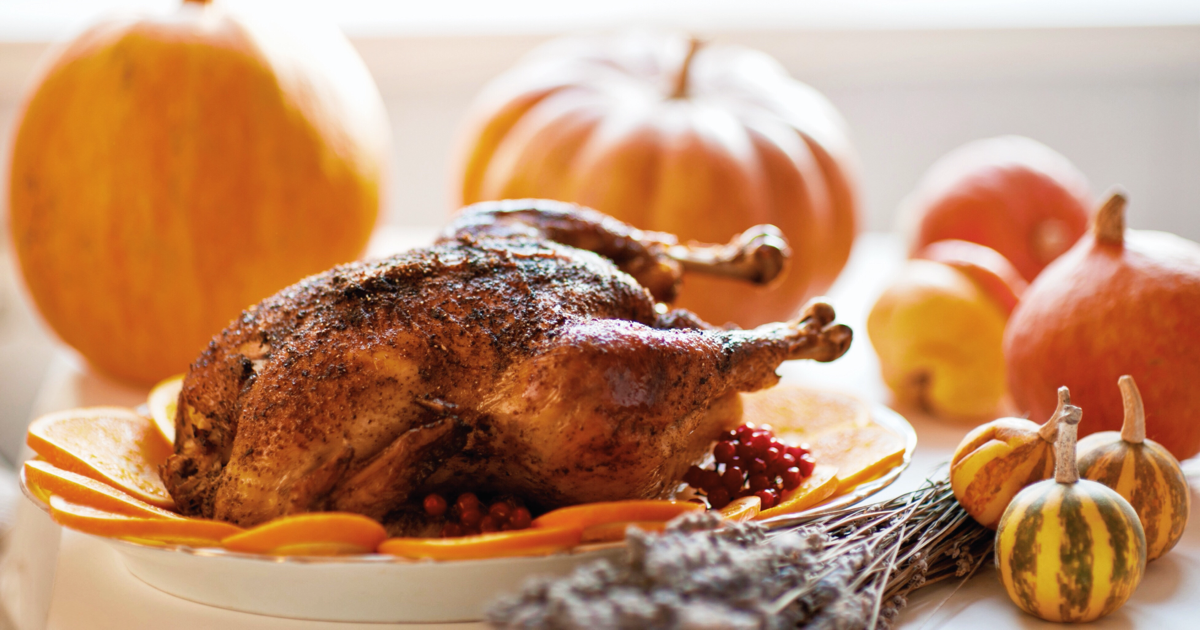 1. Limit Turkey Day To Your Household
Instead of hosting a large Thanksgiving dinner this year, keep it small and limited to the members of your household. Enlist everyone's help in the kitchen to make for a positive bonding experience so you or the cook in your family isn't left doing all the hard work. A couple of other advantages to keeping it small this year include saving money and having less to cook and clean up.
2. Deliver Meals To Friends and Neighbors
If you'd like to give thanks to your friends and neighbors this year, prepare your favorite meals or desserts and deliver them using a contactless delivery method. This can be a great way to celebrate Thanksgiving COVID-style with those who may be at high risk for COVID-19 due to age or existing health conditions, or who may have tested positive for the virus. The most commonly used contactless delivery method is leaving the meal outside the front door of the person's home.
3. Watch Sports or Movies Together Over Video Chat
Video chat sessions have become even more popular during COVID-19 on behalf of sheltering in place and social distancing. If one of your Thanksgiving traditions involves watching sports with friends or a specific holiday movie with your elderly parents, make plans to watch it together over video chat. Tune in to the game together or start the movie at the same time, then keep a video chat session open on your computer or mobile device. This gives you time to be with your friend or loved one as you enjoy your holiday TV time.
Holiday Shopping
4. Plan a Virtual Shopping Trip
Holiday shopping is a major tradition that takes place the entire period between Thanksgiving and Christmas, especially Black Friday shopping. This year, many retailers are hosting Black Friday sales online only to minimize and curb the usual large crowds. This year, you may find that online prices are far lower than in-store prices, which will leave more money in your pocket this year. It's a nice present for yourself.
Make plans with your friends to go virtual shopping at the same time, on the same websites. Pull up your favorite messaging app and share links to special deals and potential gifts you think may interest your friends and family. Shopping online comes with many advantages, including lower prices, gift wrapping, the option to include gift cards and gift receipts, and the option to ship gifts directly to the person's home right on time before Christmas.
5. Shop at Local Small Businesses
Thousands of small businesses around the U.S. have been hit hard by the COVID-19 pandemic, and many have closed permanently. A large percentage of small businesses that are still open are struggling to stay open, especially since more Americans have taken to shopping online or at big-box retailers.
Consider limiting your holiday shopping this year to local small businesses in your area that could use your support. Shopping locally can be a great way to give back to your local community and to show that you are devoted to helping small businesses thrive amid a struggling COVID-19 economy.
Holiday Parades
6. Attend a Virtual Parade
Thanksgiving and Christmas parades are yearly traditions in many towns and cities across the U.S. This year, many of these events have moved online so they can be viewed safely at home. Check online and with your local news outlets to find out when parades have been scheduled so you can log in to support your local community members and businesses.
Gift-Giving
7. Order Gifts Online
Many online retailers add gift options to purchases so you can hide prices, include a special message, and arrange to have certain items gift-wrapped. Shipping is often much more cost-effective when you shop online and have items shipped directly to the person's home vs buying gifts in person, boxing them up, and taking them to the post office.
This year, there are bound to be more online sales than ever to reduce the number of in-store shoppers along with potential COVID-19 exposure. If you're new to online shopping, this holiday season is the perfect time to give it a try.
8. Buy Gifts That Complement a COVID-19 Lifestyle
Social distancing, sheltering in place, and the wearing of cloth face coverings are the new norm in a world with COVID-19—therefore, gifts that align with these "new norms" may be extremely thoughtful and useful. Gift ideas for people whose lives have changed on behalf of COVID-19 include coffee or book subscription boxes and attractive and stylish face coverings. If recent economic changes have affected your friends and family, find out what types of things they may need (such as household essentials) and come up with gift ideas based on their most important needs.
Holiday Parties
9. Follow CDC's Recommendations for Events and Gatherings
Annual holiday parties have been a long-held tradition for many workplaces, families, and social groups, but COVID-19 doesn't mean parties need to stop—it just means we need to be more cautious than in years past.
The CDC states that virtual parties are the lowest-risk events during the holidays. However, small gatherings can be safe as long as they are held outdoors and people wear masks, stay 6 feet apart, do not share objects, and come from the same local area. However, given how cold and snowy it gets during the holiday season in most parts of the U.S., many probably won't be willing to host parties outdoors.
If you would rather host an indoor party, look into renting a large, well-ventilated space where people can safely mingle while staying 6 feet apart. If you're willing to stick to an outdoor party, look into using a venue with fire pits or outdoor heaters that can keep everyone warm and comfortable. You may also consider choosing a fun holiday party theme that allows people to wear warm pajamas and robes or other warm clothing.
Family Gatherings
10. Host a Virtual Family Gathering
A virtual family gathering is a fun, convenient, low-cost way to reunite with members of your extended family—especially since social distancing includes reducing close contact with people outside of your household. Most video conferencing platforms allow multiple people to join at once, which means everyone attending your family gathering can be logged in at the same time to chat and visit with one another.
Virtual family gatherings are recommended for family members at high risk for severe illness from COVID-19. This includes relatives aged 65 and older, and those who suffer from comorbid health conditions including diabetes, obesity, heart disease, liver disease, lung disease, kidney disease, and asthma. A virtual family gathering also prevents high-risk family members from having to travel via airplane, bus, or train where air may be poorly ventilated and people may be sitting within 6 feet.
Christmas
11. Do a Contactless Holiday Goodie Exchange
The month of December is everyone's favorite time to stay indoors and bake a range of holiday goodies like cookies, pies, and brownies. Many families like to distribute these goodies to their neighbors, friends, and coworkers, but social distancing due to COVID-19 limits close contact between people from different households.
Instead of distributing your holiday goodies door-to-door this year, arrange to do a contactless holiday goodie exchange with other bakers in your community. Set up tables at a nearby park or courtyard in your neighborhood and have everyone put out individually wrapped bundles of goodies. This allows people to walk up and grab the goodies without having to knock on doors, ring doorbells, and exchange gifts by hand—all of which may increase exposure to COVID-19.
12. Play Virtual Board Games
Board game nights are another favorite holiday tradition that can be taken online to minimize exposure to COVID-19. Scrabble, Monopoly, Trivial Pursuit, and other popular board games are now available online so you can play with friends and family from a safe distance. You can also connect with one another using video chat to play games like Pictionary and charades that require you to see the other person.
13. Go Ice Skating
Ice skating is a fun outdoor activity that can easily be done while social distancing. Ice skating is also a great cardio exercise that can strengthen your immunity and help protect you from illnesses including COVID-19.
Look for outdoor ice skating venues in your local area that enforce social distancing and that thoroughly disinfect rental skates after each wear. Outdoor ice rinks may even be set up and available in warm areas of the U.S. where it doesn't snow, as swimming pools can often be easily turned into ice rinks.
14. Decorate Your Home
Deck the halls inside and outside your home, and turn it into a fun family event complete with hot cocoa and holiday music playing in the background. Setting up Christmas decorations is an annual holiday tradition that can still be done during COVID, as long as you stick to doing it with members of your household. This year, go the extra mile with decorating the outside of your home so people from your community can enjoy the sights from their vehicles.
15. Have a Holiday Movie Marathon
Everyone has a favorite holiday movie, and many families already have an annual holiday movie marathon tradition in place. If you don't, this year may be the perfect time to start.
Have everyone in your household choose a holiday movie, then make plans to have a movie marathon on Christmas, or watch one movie per night during the week leading up to Christmas. Stock your home with lots of holiday goodies you can snack on during each movie, along with beverages like coffee, tea, and apple cider.
If you'd like to invite friends and extended family members to your movie marathon, consider hosting a video chat session so you can all watch movies at the same time from a safe distance. Have everyone start the movie at the same time, then keep the video chat session open on your computer or mobile device so you can be together and share laughs (or happy tears).
New Years
16. Watch the Virtual Ball Drop in Times Square
For more than 100 years, hundreds of thousands of people have gathered in New York City's Times Square on New Year's Eve to watch the ball drop. However, New York City officials recently confirmed that this year, the ball drop will be completely virtual to prevent large gatherings amid the COVID-19 pandemic.
If you live outside of New York City, you and your family may have watched the ball drop on TV every year of your life as a tradition. If you had planned on watching the ball drop in person, you will most likely have another chance to do so after the U.S. achieves herd immunity or when a safe, effective COVID-19 vaccine becomes available. This year, plan to stay home where you and your family can remain safe and warm, and watch the ball drop online at the same time as millions of other Americans.
No matter where or how you decide to spend the holidays this year, keep it safe by practicing social distancing, wearing a face covering, and washing your hands regularly. Continue to adhere to health and safety laws and regulations in your city or state, and make a point of staying on top of current COVID-19 levels in your community to determine whether to postpone or cancel any planned holiday parties and events.