COVID-19
Free resources to keep you and your family healthy during the pandemic
Medically reviewed by
Dr. Rob Rohatsch, MD
Updated on Sep 23, 2023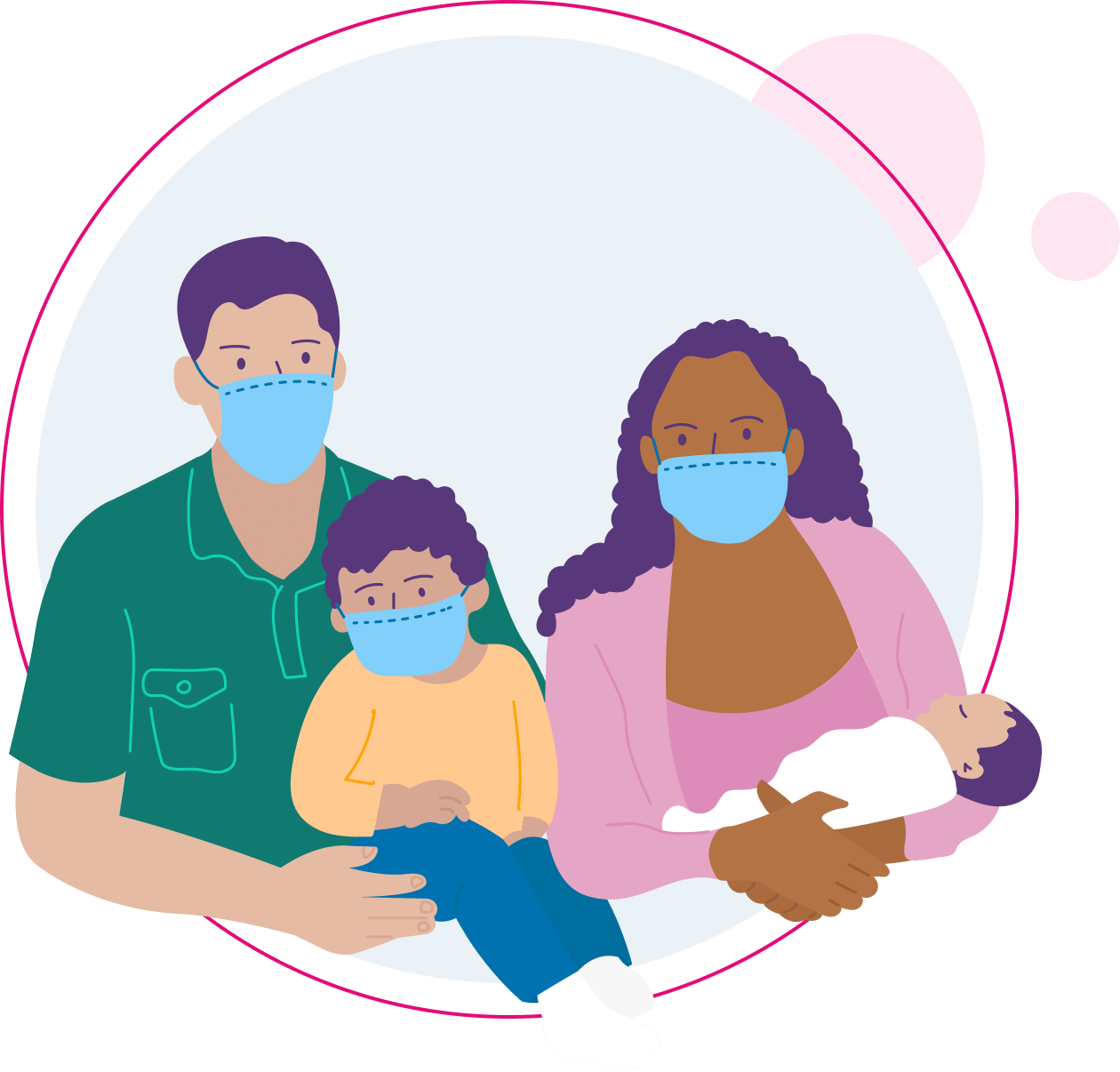 What are the COVID symptoms?
COVID-19 has been linked to a wide spectrum of symptoms, from moderate to severe, including the following:
Fever or chills
Cough Shortness of breath
Fatigue
Muscle or body aches
Headache
New loss of taste or smell
Sore throat
Congestion or runny nose
Nausea or vomiting
Diarrhea
Do I need to wear a mask?
With both the Delta and Omicron variants spreading, the CDC currently recommends that both vaccinated and unvaccinated people wear a mask indoors in public, particularly if you are in an area of higher risk of transmission.
In the United States, wearing a mask over your nose and mouth is mandatory on planes, buses, trains, and other kinds of public transportation.
When to seek medical attention?
Call your medical provider or 911 if you experience severe COVID symptoms including, but not inclusive of:
Trouble breathing
Persistent pain or pressure in the chest
New confusion
Inability to wake or stay awake
Pale, gray, or blue-colored skin, lips, or nail beds, depending on skin tone
Tell the operator that you have or may have COVID-19.
Vaccine Facts & Myths
According to the CDC, studies have shown that COVID-19 vaccines are safe to get and highly effective at preventing you from getting COVID-19. Even if you do get COVID-19, the vaccine prevents you from getting seriously ill. The more people that get vaccinated, the faster we can get back to normal life.
Facts
They're safe

Rigorous clinical trials must show that vaccines are safe and effective before they're authorized for public use. Millions of people have received COVID-19 vaccines, which have undergone the most intensive safety monitoring in US history.

They're effective

All approved vaccines are proven to be highly effective at preventing COVID-19. Based on what we know so far, experts believe that all the approved vaccines will nearly 100% prevent serious illness and death. They may also help protect family, friends, and those around you.

They're free

COVID-19 vaccines will be free for all Americans under the CARES act. The US government has already ordered and paid for hundreds of millions of COVID-19 vaccine doses using US tax dollars to ensure that everyone who wants one can get one.

You need a booster

The CDC now recommends everyone 16 and older receive a COVID-19 vaccine booster shot. If you are at least 18 years of age, you can choose any of the 3 FDA approved vaccines as your booster, however if you are 16-17 years old, Pfizer-BioNTech COVID-19 vaccine is the only approved booster shot.
Myths
The vaccines will not make you sick with COVID-19.
The mRNA COVID vaccines (Moderna and Pfizer) will not alter your DNA.
If you already had COVID-19, that does not mean you don't need the vaccine.
The vaccine doesn't work since vaccinated people can still get COVID.
How to Stay Healthy...
The simplest approach to avoid getting COVID-19 is to avoid coming into contact with this virus, and getting vaccinated. Here are the main things the CDC is continuing to recommend:
Get Vaccinated
The COVID vaccine has been proven to be safe and effective, and is readily available for people 5 years of age and older. Find a vaccine site near you
Wash your hands
Use soap and warm water, washing for at least 20 seconds, especially after using the bathroom, before eating, and after blowing your nose, coughing, or sneezing.
Practice social distancing
Avoid close contact with anyone who is sick or symptomatic. Keep at least six feet between you and anyone who might be coughing or sneezing.
Wear a face mask
Both vaccinated and unvaccinated people should wear a mask indoors in public, particularly if you are in an area with a higher risk of transmission.
Latest COVID 19 Updates
Aug 25, 2023
Emergency room visits from adolescents due to COVID-19 have nearly doubled in the past week, reaching levels not seen in a year, according to new data from the CDC. This surge coincides with the reopening of schools and the emergence of a new COVID-19 variant, BA.2.86, which might further fuel the spread. (
CBS News
)
Aug 25, 2023
After China lifted its "zero-Covid" restrictions, a U.S. study from the Fred Hutchinson Cancer Center in Seattle identified nearly 2 million excess deaths over two months, a stark contrast to Beijing's official figures. The surge in cases, primarily driven by the highly transmissible omicron variant, resulted in a significant increase in hospitalizations and deaths, with experts suggesting that the actual numbers were underreported by Chinese officials. (
NBC News
)
COVID-19 FAQs
How does the COVID-19 virus spread?

COVID-19 spreads when an infected person exhales virus-containing droplets and very minute particles. Other people may inhale these droplets and particles, or they may settle on their eyes, noses, or mouths. They may also contaminate surfaces they come into contact with in some cases. This is why social distancing, wearing a face mask in public places, and washing hands frequently remain the best ways at slowing the spread.

What is the Omicron variant?

Omicron is a variant of SARS-CoV-2, the virus that causes COVID-19, and was first reported to WHO November 24, 2021 in South Africa. According to the CDC, it appears that the Omicron variant spreads more rapidly and easily than the Delta variant and poses greater risk for reinfections and breakthrough infections in people who are fully vaccinated. As of this writing, more information is needed to determine the severity of Omicron infections compared to other variants, however, it does further emphasize the importance of vaccination and boosters.

What is the Delta variant?

The Delta variant is a viral mutation of COVID-19 that causes more infections and spreads faster than early forms of SARS-CoV-2. What is known for now is that it is more than 2x more contagious than earlier variations, that it may cause more severe sickness in unvaccinated persons, and that even fully vaccinated people with Delta variant breakthrough COVID-19 infections can transfer the virus to others. Vaccinated people, however, appear to be sick and infectious for a shorter amount of time.

Are children at risk for becoming sick with COVID-19?

COVID-19 can infect children. According to the CDC, the majority of children with COVID exhibit minimal symptoms, or none at all (asymptomatic). The virus has caused less illnesses in children than in adults, however, more serious cases amongst children are now occurring with the Delta variant. COVID may cause significant disease in babies under the age of one and youngsters with certain underlying medical disorders. Multisystem inflammatory syndrome is an uncommon but deadly condition connected to COVID-19 that has affected some children (MIS-C).

What can I do to protect myself from COVID-19?

The best way to protect yourself from getting COVID is to get vaccinated. Once you are fully vaccinated, you may be able to start doing some things that you had stopped doing because of the pandemic. Additionally, you can protect yourself and others by wearing a mask in public spaces, social distancing from others, avoiding crowds and poorly ventilated spaces, washing your hands frequently, covering your nose and mouth when sneezing or coughing, and cleaning and disinfecting regularly.

What are the symptoms of COVID-19?

COVID-19 patients have reported a wide array of symptoms, ranging from minor aches and pains to serious illness requiring hospitalization. Symptoms might emerge anywhere from 2 to 14 days after being exposed to the virus. If you have fever, cough, shortness of breath, muscle or body aches, loss of taste or smell, or other symptoms, you might have COVID-19.

What should I do if I get sick or someone in my house does?

If you, or someone in your home, are sick with or are showing symptoms of COVID-19, stay at home and only leave if you are seeking medical care. Get plenty of rest and stay hydrated. Monitor your symptoms and call your healthcare provider before seeking care with them. Additionally, keep distance from others, including those in your home, as much as possible to prevent further spread.

When should I seek emergency medical care?

Call your medical provider or 911 if you experience severe COVID symptoms including trouble breathing, persistent pain or pressure in the chest, new confusion, an inability to wake or stay awake, or pale, gray, or blue-colored skin, lips, or nail beds, depending on skin tone. Call 911 and tell the operator that you have or may have COVID-19.
COVID Testing FAQs
How much does COVID testing cost?

COVID testing can be free in many circumstances. As part of their response to the epidemic, many state and local health departments continue to provide free testing to community citizens. In some situations, commercially insured patients, as well as those on Medicare or Medicaid, may be able to get testing for free or for a small office visit fee. COVID tests can cost anything from $50 to $150 each test for cash-paying individuals or those who require speedy answers in under an hour. It's best to call your doctor before getting tested so you can get a better idea of how much the test will cost.

Where can I get free COVID testing?

The Families First Coronavirus Response Act, covers COVID testing for people without health insurance, which essentially makes COVID testing free. These free tests may require a screening for symptoms and/or exposure in order to qualify. Check with the health department in your area, since they are usually an excellent source of free COVID tests, or can at least lead you in the proper way. You can also ask your health care practitioner for a recommendation for a free COVID test location.

Where can I get COVID testing?

COVID testing is available at many locations including urgent care centers, retail clinics, primary care offices, health departments, and more. Different venues will have different types of tests available, at different price points. Some testing sites are allowing walk-in patients, however, many are still requiring some degree of advance booking to control patient volume.

Where can I get a rapid COVID test?

Rapid testing—both PCR (molecular) and antigen tests—is offered through many urgent care centers and physician offices, usually at an additional cost ranging from $50 up to $150 per test. Usually this will allow you to get results back in under an hour, and require advanced booking through the provider. However, if you can wait 24 hours for your results, many labs are turning around send-out lab tests in that time frame, which could save you some money.

How do I make an appointment for COVID testing?

Thousands of same-day and next day appointments for COVID testing are bookable directly through Solv. Simply browse the list of healthcare providers conducting COVID tests above, find one with a "Book Online" button, and book a time that aligns with your schedule stating "COVID-19 Test" as your reason for visit.

What type of COVID test do I need?

Which COVID test you take is largely dependent on why you need to take the test. Patients who require formal paperwork or certification, such as for travel or an event, should get a molecular (PCR/NAAT) test. These tests are considered to be the gold standard for accuracy. For those who don't need official certification but need to know if they have COVID quickly and inexpensively can select an antigen test.

Can I get tested for antibodies if I am sick with COVID-19?

An antibody test for COVID-19 might inform you if you previously had a coronavirus infection. Because it can take between 1–3 weeks after an infection for your body to develop these antibodies, an antibody test during an active infection would not be successful. To see if you are currently infected, you need a viral test.

Do I need a COVID test if I have been vaccinated?

Even if you have been fully vaccinated, scientists feel you should be checked if you have been exposed to someone who has COVID-19, especially if you are suffering cold or flu symptoms that are usually associated with the coronavirus.

How long does COVID testing take?

A COVID test is quick. A nasal swab is used for the majority of tests, and it takes less than a minute to swab both nostrils. This means you might be in and out of the testing center in as little as 10-15 minutes, depending on where you obtain your COVID test. Testing sites may be busier than usual during popular seasons, especially around holidays, and wait times may be higher.

How long does it take to get COVID test results?

Most labs are sending out COVID test results via molecular (PCR) within 24-48 hours of the test. Some sites take longer, so call and ask if the reason for the test is proof for travel. Rapid tests are processed on-site and can provide findings in less than an hour, sometimes as quickly as 15 minutes.

Do COVID tests detect the Delta variant?

Regular COVID tests can detect the Delta variant, which means they can tell if you have the coronavirus or not. They can't tell which variant is involved, though. This would need genome sequencing, which is a separate technique from standard virus testing that not all labs can perform. Sequencing is a somewhat rare procedure that can cost up to $100 each test. Since the treatment is the same for any variant, it is not clinically useful to an individual patient to know whether the infection was caused by a variant or not.
COVID Vaccine FAQs
How effective is the COVID vaccine?

All COVID-19 vaccines currently available are effective at preventing COVID-19, as proven by multiple clinical trials and real world conditions. These vaccines are not experimental and were developed using science that has been around for decades. While no vaccine is 100% effective, the COVID vaccine helps significantly protect people from severe illness with COVID and nearly eliminate the risk of hospitalization or death.

Who is eligible for a COVID vaccine booster shot?

The CDC now recommends everyone 16 and older receive a COVID-19 vaccine booster shot. If you are at least 18 years of age, you can choose any of the 3 FDA approved vaccines as your booster, however if you are 16-17 years old, Pfizer-BioNTech COVID-19 vaccine is the only approved booster shot.

Does the COVID vaccine protect against the Delta and Omicron variants?

Yes. Vaccines remain the best measure to protect from COVID-19, as well as reduce the likelihood of new variants emerging. COVID vaccines are particularly effective in preventing serious illness, hospitalization, and death, even with breakthrough cases being reported as a result of the Omicron variant. CDC recommends that everyone ages 18 years and older should get a booster shot at least two months after their initial J&J/Janssen vaccine or six months after completing their primary COVID-19 vaccination series of Pfizer-BioNTech or Moderna in order to best protect against new COVID variants.

How do I get a vaccine?

Each state has determined their own distribution plan based on vaccine availability and priority recommendations from the CDC. As of May 10, all US adults and anyone over the age of 12 is eligible to receive the vaccine nationwide. Vaccine appointments can be found online through most major pharmacies and local health departments.

Where can I get a COVID-19 vaccine?

The COVID vaccine is currently available to eligible individuals through health clinics, hospitals, health departments, pharmacies, and doctors' offices including urgent care centers. COVID vaccine locations are changing daily. Solv, through partnership with vaccinefinder.org and others, is actively maintaining the list of providers above and is refreshing at least daily, so check back frequently. Additionally, check directly with vaccine providers near you as last minute availability for eligible populations sometimes opens up.

How much does a COVID vaccine cost?

No fees will be charged to get vaccinated. If you have commercial insurance, you may be required to provide insurance details when you receive your vaccine. If there is a charge associated with administration of the vaccine, your insurance or the Health Resources and Services Administration's Provider Relieve Fund will compensate providers with no cost to you.

Do I need to be a US resident to receive the vaccine in the US?

Proof of US residency will not be required in order to receive a COVID vaccine. Any personal information shared with vaccination centers can not be used for civil or criminal prosecution.

Will I be able to receive the vaccine if I've already contracted COVID-19?

Yes, people who have had COVID-19 can still get the vaccine. The CDC recommends you wait 90 days after you have recovered to receive it.

How many doses of the vaccine will I need?

The Pfizer vaccine requires two doses administered 21 days apart. The Moderna vaccine requires two doses 28 days apart. The Johnson and Johnson vaccine will require only one dose. You are considered fully vaccinated two weeks following your last dose of any of the vaccine varieties.

How long with the COVID vaccine last?

New research finds that mRNA COVID-19 vaccines provide viral immunity for at least 6 months, but since COVID-19 is so new, experts aren't sure if immunity will wane after that. A vaccine is a medicine designed to defend against diseases by introducing the immune system to a virus in a safe way. This process allows the immune system to learn how to defeat it by generating antibodies specific to the virus. These antibodies will help ward off future infections and in some cases prevent re-infection. Scientists are still researching how long antibodies last for coronavirus (COVID-19), which could inform how long a vaccine will last.

How many doses of the vaccine will I need?

The Pfizer vaccine requires two doses administered 21 days apart. The Moderna vaccine requires two doses 28 days apart. The Johnson and Johnson vaccine will require only one dose. You are considered fully vaccinated two weeks following your last dose of any of the vaccine varieties.

Can I get the vaccine if I'm pregnant?

Yes. All three of the currently authorized US vaccines are available to pregnant individuals, however, the CDC recommends you have a conversation with your healthcare provider before being vaccinated.
Find a COVID Vaccine Near Me
Find COVID Testing Near Me
Medically reviewed by
Dr. Rob Rohatsch, MD
Updated on Sep 23, 2023
Solv has strict sourcing guidelines and relies on peer-reviewed studies, academic research institutions, and medical associations. We avoid using tertiary references.